Welcome to the Flourishing Freelancer guide to starting a blog – the overwhelm-free way!
Deciding to start a blog is an exciting time. You want the world to see what you have to offer. You want to create amazing content and get it out there on the internet for people to see. But, there's a lot more to it than simply sitting down and writing.
Let me guess, you've done some research online into starting a blog and you're completely overwhelmed by everything you found? There's SO much information out there. And for good reason, there's a lot to learn when it comes to blogging, especially if you want to make money from it.
Don't worry though, this post is the overwhelm-free guide to starting a blog.
**This post may contain affiliate links for products I love. If you make a purchase through one of these links, I will earn a commission at no extra cost to you. For my full disclaimer, please click here**
1. Decide What to Write About
We're starting right at the beginning with this guide to starting a blog!
You might see people describing this as "choosing your niche" but we're keeping things plain and simple here.
Before you go any further with starting your blog, you need to decide what you're going to write about. You might already have a rough idea of the types of thing you want to write about; fashion, beauty, dog training…it could be almost anything you want.
But there are a couple of factors to consider before firmly deciding on your blog topic:
Is it a topic that you're passionate about? – It needs to be something that you could talk about for days on end and love every minute of it.
Is it an area that you have expertise or experience in? – Most people go to a blog looking for advice or a solution to a problem, do you have the expertise or experience to provide that advice or solution? If so, then people will come to your blog.
Do you have an audience? – I don't mean right now. I mean is there an audience out there? The answer is most likely going to be yes to this question as there will be someone, somewhere in the world who is interested in your chosen topic. But, if you're thinking about monetising your blog at some point in the future, you probably want to choose a topic that has a big audience.
After you've considered these questions, you need to get specific with your topic. When you choose a specific topic, you're likely to attract readers who are interested in what you have to say.
So, think about how you might be able to make your topic more specific. For example, your topic might be "travel" but there are millions of travel blogs out there. However, your specific topic might be "solo female travel in South America", of which there will be a lot less out. Not only does it mean that there's less competition, but it also means that your readers who want to read what you write will be able to find you more easily.
2. Decide on a Name and Check the Domain
I've grouped these two elements together here purely because they are so closely connected. I'd hate for you to take ages deciding on a name only to find that the domain (and all its variations) are already taken.
When choosing a name for your blog, you don't want to get too fancy. Try to convey your chosen topic within your blog name. When it comes to lifestyle bloggers this is a little tougher and I know a lot of bloggers simply go with their name or some sort of nickname.
Your blog's name needs to be something that is easy to remember too. Try to steer away from obscure spellings as well. Having a strange name or quirky spelling might seem like a good idea to help you stand out but, if no one can remember it, they're unlikely to be able to find you online.
As you're thinking about your blog's name, start doing some searches to see if the domain is available.
Checking for Your Domain Name
I promised you I would keep this simple so…what is a domain name? It's the address of your site. So, my domain name is flourishingbusinessmum.com.
You can check to see if your chosen blog name is available as a domain name by going to GoDaddy. I recommend searching for available domain names on GoDaddy as it's a good place to buy your domain from if your host doesn't offer a good deal. But I'll explain more about that in a minute.
Checking if your preferred domain name is available is simple; just type it into the search bar and hit go.
Once you have found a blog name and matching domain name, it's time to purchase that domain name (before someone else does).
You have two choices here: you can purchase your domain name through GoDaddy or you can purchase it through your hosting provider. DON'T PANIC. I'll be explaining what/who your hosting provider is in a moment. So, I would recommend you read the next two points and checking if, at the end of those, your chosen host provider has any offers on domain names (I'll remind you again when we get there!)
3. Choosing Your Blogging Platform
This is one of the tougher decisions you'll be making. For me, it was an easy decision. I knew that I wanted to use WordPress for my blog but there are a lot of other options out there. One of the most popular amongst other bloggers I know personally is Squarespace.
I'm a WordPress gal through and through. It's so versatile and does everything I could possibly need it to and more! I think one of the appeals to Squarespace is it's drag and drop site builder which is something that I found myself wanting when it came to creating sales pages, landing pages and my home page BUT I found an amazing plugin called Elementor which gives you this function.
Explaining each platform in depth is outside the scope of this blog post (I'm already at 1,028 words and we've still got lots to cover). Instead, I've created this nifty little visual to give you an overview of each platform.
It's worth mentioning that in this table and tutorial, when I say WordPress, I'm talking about WordPress.org, not WordPress.com. You can read all about the differences between the two here.
If you need more help in deciding which platform to choose, there's an entire lesson dedicated to this in my free course – From Idea to Launch. Simply click the button below to sign up.
Why WordPress.org?
So, why did I really decide to go with WordPress.org? I knew that I wanted a self-hosted option because one day in the future I wanted to monetise my site. Self-hosting gives you the flexibility to do pretty much what you want on your site – you can place ads on it, start an e-commerce store, customise your themes and have access to tonnes of plugins to improve functionality and reader experience.
Here are just a few reasons why you should start your blog on WordPress.org:
Suitable for bloggers in all niches
Great for bloggers who want complete control over their site
Ideal for bloggers looking to maximise and capitalise on their site traffic
Easy to use – suitable for beginners and pros!
Lots of themes and plugins to choose from
Great functionality (great if you plan to make money from your blog)
Easy to customise
Quick install – many host sites offer a single-click install
SEO Friendly
Self-Hosted and own Domain Name
Fantastic support
If you do decide to go for WordPress.org, you don't need to do anything right now.
4. Choosing a Hosting Provider
If you Google "blog host provider" or "hosting service" or anything similar you will be completely overwhelmed by the results. I know I was. To me, they all looked the same. They all offered similar packages at similar prices and I had no idea where to start in choosing one other than the one that I liked the look of the most! And I don't mean, like the look of in terms of their packages. I mean, like the look of in the shallow sense. The one that was the prettiest looking!
So I did a bit of research and read a whole load of comparison blog posts. It came down to two: SiteGround and Bluehost. So I hosted one site on each! After 5 years of using both, they do come in very close but, if I had to choose one, I'd say SiteGround.
Whilst Bluehost is slightly cheaper (especially when it comes to renewing after your initial period), the customer service on SiteGround is so much better. Fortunately, I've hardly experienced problems with either host but the team at SiteGround go above and beyond when it comes to sorting things out.
So, if you're looking for a simple answer/recommendation, I would say go with SiteGround. Especially if you're completely new to this whole blogging thing as their customer service team will help you out no end!
5. Getting Started with WordPress and SiteGround
You've made all of your decisions and checked your domain name is available. Now it's time to take action!
Here's your complete step-by-step guide to getting your blog set up using WordPress and SiteGround:
1. Creating Your Siteground Account 
OKay, let's do this! Go to the Siteground homepage and select "Sign Up"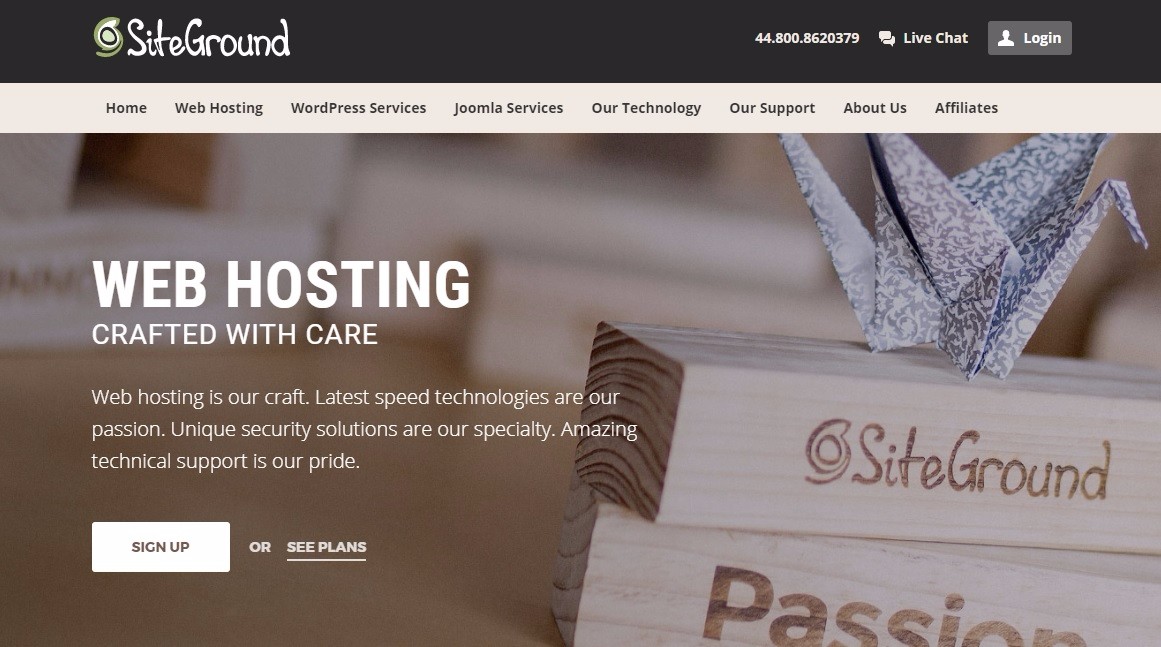 This will take you through to a screen where you can select the hosting package that you want.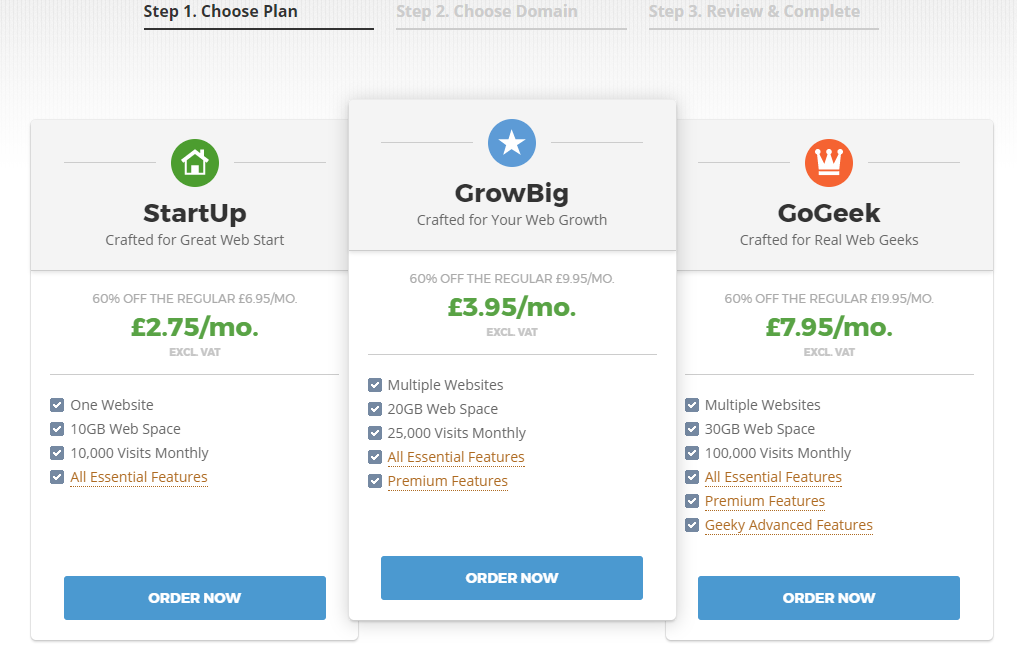 From the above packages, the "StartUp" package might be all you will need but I have the "Grow Big" package because it allows me to host 3 of my current sites on there (it actually allows more but that's all I need at the moment). If you think you might be starting more than one site then I'd definitely go for the "Grow Big" package as it doesn't cost much more and you get more web space, monthly visits and access to the premium features too.

Click on the package that you want, and you will be taken through to the screen where you register your domain name.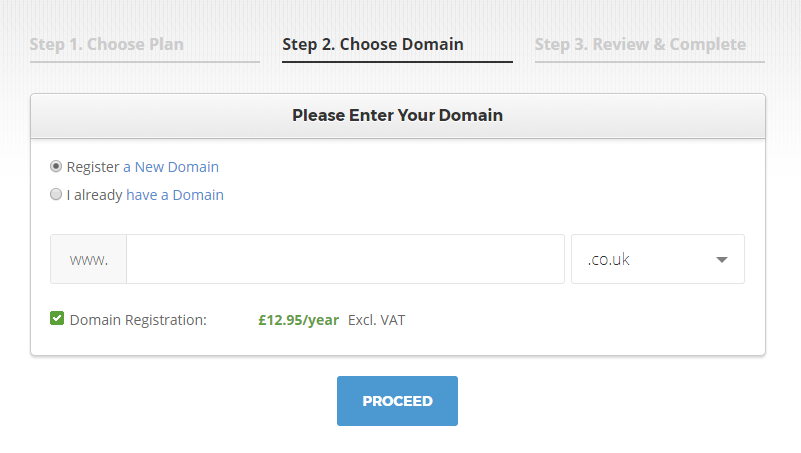 As you can see, you have the opportunity to register a new domain name or, sign up using an existing domain name that you have purchased through a different site.
This is the moment you've been waiting for! Input that domain name that you've decided on. If for some reason, it's no longer available (it depends on how long ago you checked), SiteGround will give you a list of alternatives.
You can purchase your domain name somewhere else, like GoDaddy and then use it on SiteGround (you can see the option to use a domain name you already own in the image above) but personally, I like having everything in one place as it's easier to manage. This is especially true if, like me, you decide to run multiple blogs and sites at a later date!
Once you're ready to hit "Proceed" at the bottom of the page.
2. Choosing the Hosting Period (and any extras)
On the next page, you will be asked to create your account details and to confirm your purchase.
Siteground offers you a 60% discount on the regular hosting price BUT only for the first invoice. This means that you can have the discount price of £3.95 per month for up to 3 years but only if you purchase those 3 years now. It's a lot to pay up front but, if you can afford it, it will save you money in the long run.
For £142.20 you can have your site hosted on one of the most popular web hosting sites for three whole years. No need to worry about renewing each month or losing your site because you missed a payment or hadn't set up auto-renewal etc.
However, if you're unsure about blogging at this moment in time (I know, I know, it can be daunting), or you're simply not in a position to part with that much money, the 12-month package is still excellent value.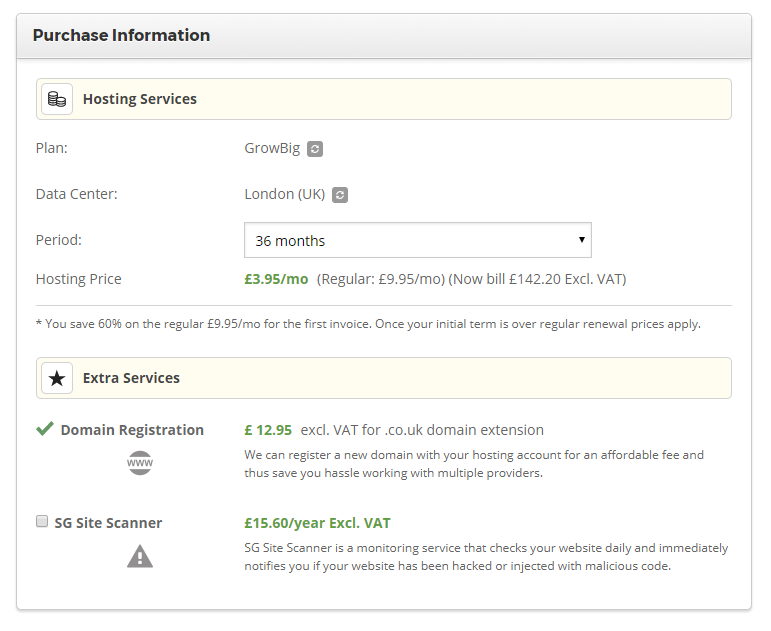 You can see in the above image that this example domain name will be an additional £12.95.
When it comes to extras, you should definitely invest in the Domain Privacy Protection at £0.75 per month. Again, this offer of 50% off only applies to your first invoice. This ensures that your personal contact information remains private. Without it, if someone searches for the owner of your domain, they can access your personal information such as full name and address.
Once you've made a decision, all you need to do is complete the payment information and hit "Submit".
3. Install WordPress
Yay! Now we're on to the fun part.
You should have received confirmation that your payment has been processed and that you are now the proud new owner of your domain (and your hosting plan).
Installing WordPress in super easy and FREE with Siteground.
Simply log into your Siteground account and go to your cPanel. Scroll down through the menus until you get to the "WordPress Tools". Then select the first icon called "WordPress Installer".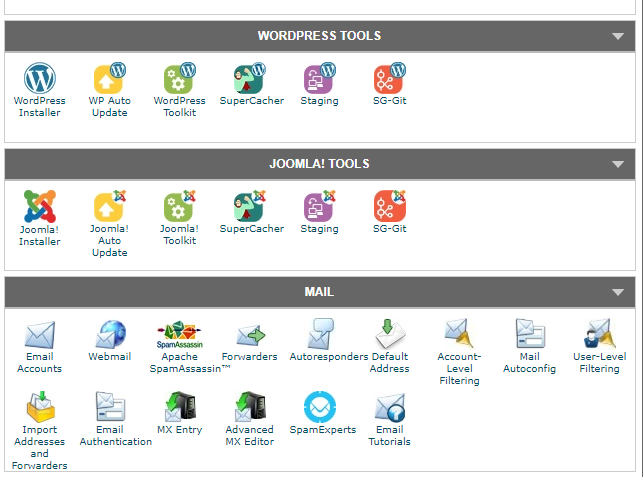 This is a link to Softaculous WordPress Installer. On the next page, you will see the option to install WordPress – click on "Install".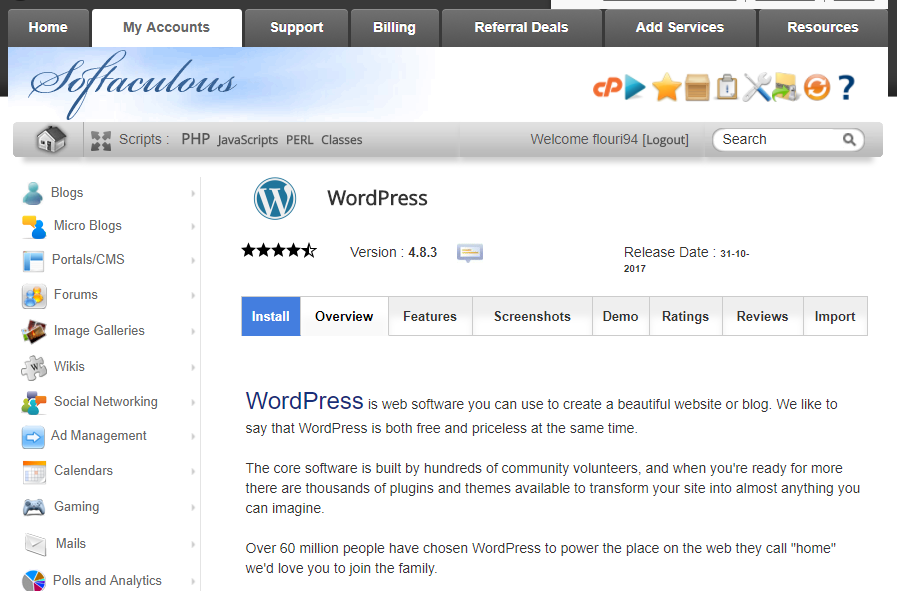 Follow the step-by-step instructions on the screen. Firstly, you will be asked to confirm which domain you want to use – select your domain name from the drop-down menu.
Next, you will see "Advanced Options" which is where you will set up your username and password for your WordPress website. As with any usernames and passwords, make sure that they are unique and not easy for people to guess!
Once you've completed the above you will see a success message that says "Congratulations, the software was installed successfully". Just below that message, you will see the "Administrative URL" which is how you will access your site to edit it and add posts etc.
Congratulations, you now have your own WordPress blog with your very own domain name! Go you!
That was pretty easy, right? No need for stress and overwhelm at all!
What next?
Okay, so you now own your blog but, as you're probably already aware, there's still a bit of work to do. So, let's keep going, shall we?
6. Getting Familiar with WordPress
Once you've completed the installation process outlined above, you will be emailed a link to access your WordPress dashboard. That is how you will access your WordPress site.
When you log in for the first time, take your time looking around and exploring the WordPress dashboard.
The main menu down the left-hand side of your screen is where you will create pages, write posts and install and manage widgets and plugins.
I would recommend that you play around with settings and learning how to create pages and posts on your WordPress account before your site goes live. Until you hit "publish" on your site, no one apart from you can see it so now is the ideal time.
Installing a Theme
Before you start working on your actual content – the stuff that you want people to see – you should choose and instal a theme. The theme is what makes your site look a certain way.
WordPress comes with lots of free themes, but I would highly recommend investing in a premium theme. You can read all about why premium themes make a difference to your blog here.
Once you've chosen and purchased a theme for your site, follow the installation instructions. These will be different for each theme so it's not something I can include in this guide to starting a blog. After your theme has been installed, take some time to carefully read through any guide or instructions that came with it and start customising your site.
It's really important to do this before you start creating content as it can be a pain to change your theme and layout once you have content and things often don't look right.
Installing Plugins
Now that you have your site and a beautiful theme, it's time to start installing some plugins.
Plugins are like apps for your site. You can find a plugin for almost anything you could ever need. You will find that, over time, you need more plugins to serve different functions. And that's fine because you can install and uninstall them at any point. But, to get you started, here are some basic plugins that I love:
7. Start Creating – Pages
This is the really fun part! It's time to start creating some content to get out there.
As well as having a couple of blog posts in the bag, there are a couple of essential pages that you should have up and running before hitting launch on your site.
Homepage
With WordPress, you have two options for your home page. It can be where your latest posts are displayed or you can have what's called a static home page.
A static homepage basically means a page that you have designed and created (Elementor is amazing for doing this) that doesn't change. My homepage is a static homepage. As you might have seen, I use this page to tell people a bit about Flourishing Freelancer and help them to navigate to the parts of the site that they need.
Which option you choose is entirely up to you and you can change it at a later date. I would suggest having your blog posts as your homepage until you have other things to offer on your site. If all you ever plan to have on your site is blog posts, then you can have your latest posts on your homepage forever. But, if you decide to offer more on your site such as a shop, courses, services etc. you can create a static homepage that acts as a navigation tool or menu.
About Page
Your about page is one of the most important pages on your site. So important in fact, that I dedicated an entire blog post to it.
You should use this page to introduce yourself to your audience and let them know who you really are. It's also a great place to introduce your site and the aims of your bog to people.
Contact
One thing that I see a lot of new bloggers missing out is a contact page.
You might be wondering why you need contact information on your site, especially in the early stages but it's super important.
Even in the early days, I received messages asking me to write posts on specific topics and enquiring about collaborations. As you continue to grow, you may find brands reaching out to you for collaborations too.
So, make it easy for people to reach out to you by including some contact information. If you don't have an email account dedicated to your blog yet and don't want to share your personal email account, don't worry. There's a great plugin called WPForms Lite that helps you create lovely contact forms that people can use to get in touch with you.
The Legal Stuff Pages
There are three key pages that you really need to have: Privacy Statement, Terms and Conditions, and a Disclosure Policy.
Now, although I was a lawyer many years ago, I'm not an expert in this kind of thing. Jackie, from Jade & Oak, is! She offers a free course on making your blog legal that you can access here. She also offers an epic paid course called Blog and Be Legal which is game-changing (and has templates for these three key pages included). It is a little pricey so not necessarily for you if you're starting out on a budget. BUT it is so worth the money. If you can't afford it right now, add it to your list of "must haves" for the future.
What Else?
Next up on the list is to start writing some blog posts and to set up your social media accounts.
If you're looking for a step-by-step guide to these, plus starting and growing an email list, boosting your traffic and monetising your blog, then you probably need Blogging Babe to Business Boss in your life!
You can grab the course, for an exclusive early-bird price at the moment. The course will officially be launching on the 15th January. But, between now and then, you can grab it at 50% of the original price. You'll then get full access to the course content when it goes live on the 15th. If you wait until the 15th to purchase, the price will be increased back to full-price. So, don't miss out on this amazing offer, get your discount here today.
Hopefully see you there!
Wait, before you go...
...grab yourself a copy of the Ultimate Blogger Resource List (and boost your blog today!)